Hello all,

The summer of COVID-19 is, without a doubt, going to be a weird one. Especially if you're a performer. From her ongoing quarantine in L.A., musician, producer, and activist Madame Gandhi has spent the endless hours at something of a reluctant artist residency, reconnecting with a global network of collaborators to produce new work.

Even if all you've "accomplished" over the last three months is the ability to simultaneously drink coffee and have anxiety, you can still appreciate that we as a society are re-learning how to use an abundance of newfound time. How to work with its excesses and not go insane.

So cheers to staying sane and the promise of summer~

Laura Xx

5 Minutes With Madame Gandhi
When Kiran Gandhi, the multi-talented drummer, producer, and activist known as Madame Gandhi, played Elsewhere on March 10th, the night was meant to rocket-launch a tour in support of Visions, her newest E.P. blending electro-soul, Afro beat, and trap. What she didn't know was that it would be her last live show (possibly) of 2020, the next day Mayor De Blasio announcing a city-wide shut down of bars, restaurants, and clubs. The rest is, quite literally, history.
The Downtown Los Angeles-based artist, known for her DIY ethic and utter fierceness, took to doing daily online performances and talks, creating a monthly live series called "Creativity and Activism in Quarantine" for Zoom, Instagram and Twitch. In her down time, she's quietly working on the initial song ideas for her next album Vibrations, the third installment of her three-part EP series, Voices, Visions and Vibrations, dedicated to celebrating the female voice.
Madame Gandhi's Swiss army skillset has made her something of an all-around wunderkind—drumming for M.I.A, T.V. on the Radio, Kehlani, Lizzo, and even Oprah Winfrey's 2020 Vision Tour; DJing and producing; Scoring original music for The New York Times and Vogue; And completing a Bachelor's Degree in Mathematics and Women's Studies from Georgetown and an MBA from Harvard—all before 30. Gandhi is even killing it in the fashion world, her summer merchandise seen on everyone from Sudan Archives and Garbage to Syd. Her 2018 TED Talk, "Own Your Voice," on making music that is purposeful and accessible, has been viewed over 200,000 times. But in our strange new world, she's mostly about connecting with her people.
"It's these small moments of solidarity that we value even more now," Gandhi explained. "I'm at home in Los Angeles, writing the new record, and it's weird because part of me wonders, 'should I be focusing more on the emotion surrounding COVID?' But I've also had a backlog of works and emotion and ideas that I've wanted to develop. So that's how I'm spending my time." Even with writing songs, producing, and long studio nights, there are times when things get emotional. "Then I'm like, 'Woah, I'm kind of lonely right now.' Other times, I'm like 'Yo, this is fire. There's no flights, there's nowhere to go, there's no one hitting me up. I can work without feeling obligated to anyone or anything."
Gandhi even has a little home gym set up. "Honestly, I'm keeping it focused on the new album and the songs that I want to write for it."
"I describe my process as concentric circles," she explained. "First, I make sure I'm being a responsible member of society." Right now, that means checking the news, sanitizing, self-quarantining. Wearing a mask or gloves in public. "Those kinds of things where I can imagine I'm being part of the solution." The next circles are checking in on community and her physical surroundings. "I have to make sure that my space is clean and has good vibes." This has so far led to a total decluttering of both her home and her digital life. "At the center, and the most emotionally relevant circle, is the creating."
This self-imposed artist residency, which Kiran refers to as "The Gandhi Fellowship," comes after years of non-stop hustle. Visions, her newest, is the logical evolution. Playing on "mathy percussion," Gandhi utilizes an almost scientific method to achieve ninja-like cuts and precision timing.
"Honestly, spending so much time alone, I find myself seeing ideas in my log and recording them. I develop little demos by myself. I'll produce a song end-to-end, but then I'll be like, you know? Who could take this song to the next level? My friend who produced XYZ. And then I'll email them." From there, she'll bounce ideas around the world.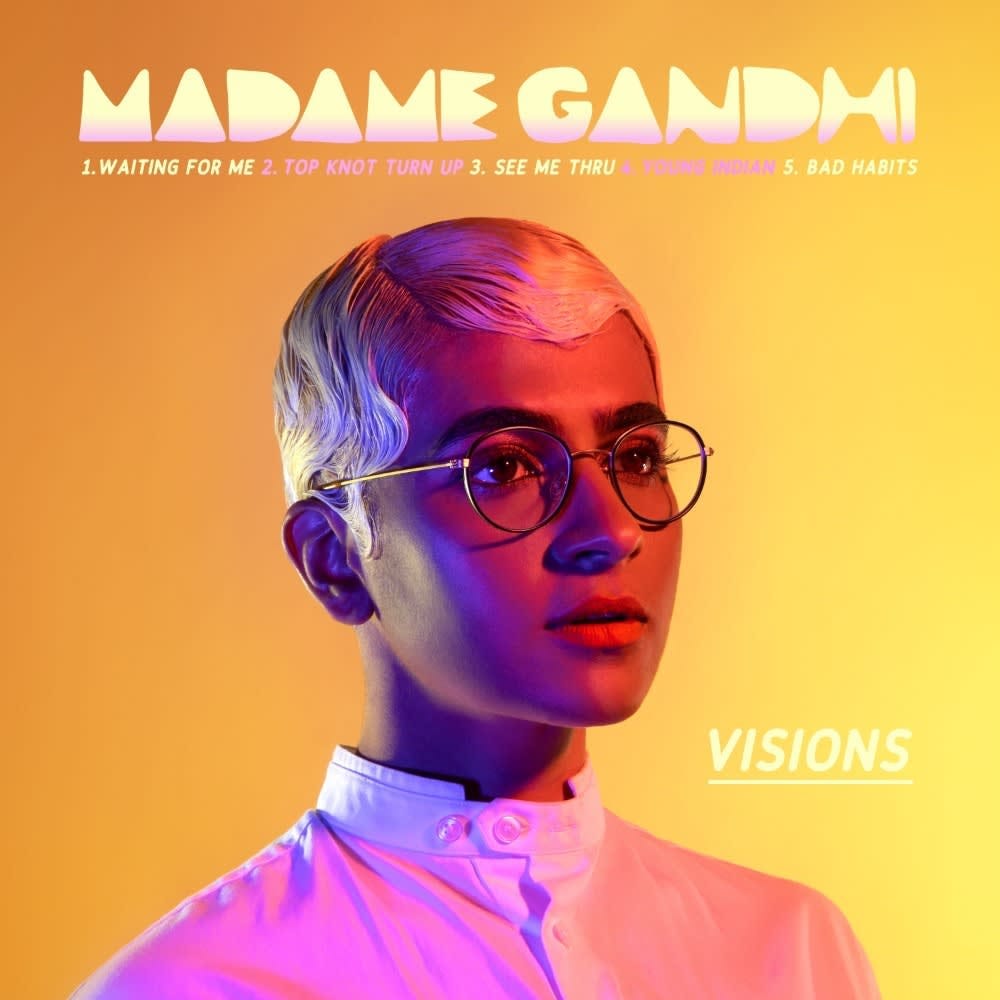 "One of the most rewarding aspects of this time of stillness is that it's giving me this creative flow that I've always wanted to have," she said, explaining that the global lock-down has led to a range of new and unexpected collaborations. "Usually, I'm not sitting down in my studio to have that flow."
What is she currently excited about?
"I honestly miss human connection," she confided. "I am so grateful for Zoom and FaceTime. I feel very privileged, but I miss hugs, touching, and hand-holding. On the simplest level, I'm excited to increase my own gratitude for human connection."
Gandhi also does a fair amount of work in juvenile halls. Twice a month, she teaches beat-making to incarcerated youth. "One of the biggest rules they tell us is that we're not allowed to touch any of the boys we work with—we can't even put a hand on their shoulder." Having lost consistent human touch for weeks, "I understand how problematic and intentional that rule really is. It deprives you of love and of feeling connected and valued and seen by other people."
"I've been re-energized to continue to fight," she asserts. "It's something that I feel even more in my heart."
Stream Visions here.
You can visit madamegandhi.com/shop to purchase an "Own Your Voice" face covering in support of GiveABeat.org, an organization that provides virtual music education to incarcerated youth.
By Laura Feinstein for Slow Ghost