By Kathryn Kattalia for Bustle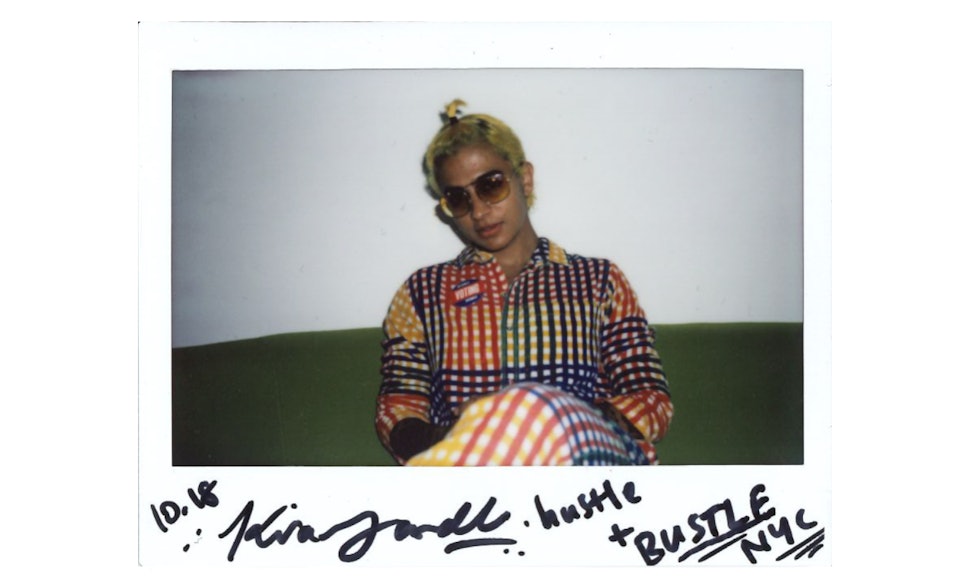 When celebrities hang out with Bustle editors, we want to give them the chance to leave their mark. Literally. So we hand them a pen, a piece of paper, a few questions, and ask them to get creative. The rest is up to them. This time, music artist and activist Kiran Gandhi, aka Madame Gandhi, talks about the inspiration behind her new single, "Bad Habits," which debuts Oct. 12.
When you first hear Kiran Gandhi's new single, "Bad Habits," your instinct is to immediately start dancing. The beat is strong, the vocals are clear, the chorus is undeniably catchy, and you're pretty sure you're going to have this one stuck in your head for a long time after listening to it. What ultimately stays with you, though, is the song's message.
"I definitely want to be one of those artists who contributes to making the world a better place," Gandhi, who performs as Madame Gandhi, tells Bustle. "And so this is me doing my part, by putting out a song that I think is relevant, and by putting out a song that I think can inspire change."
With lyrics like "It's my year to be free from what's bothering me / It's this society that's killing me," the song (co-produced by Zach Witness) serves to rally today's generation of change-makers to find their voice and vote in the upcoming midterm elections. It does so by drawing inspiration from historic figures like Indian activist Mahatma Gandhi, whose message of nonviolence was the basis of an entire movement in the 1940s, and Nigerian musician Fela Kuti, who used his music to fight against oppressive government in the 1970s.
"The idea is to say every single generation has its ability to influence change for the better, and I wanted to put this song out two weeks before the midterm election as a call to action to anyone listening to it to take advantage of what they can do to influence history, and to influence culture," Madame Gandhi (who has no biological relation to Mahatma Gandhi) says.
Listen to Madame Gandhi's new song "Bad Habits" here.
Madame Gandhi, who grew up in New York City and toured as a drummer for M.I.A in 2013, has never been afraid to get political. In 2015, she went viral for free-bleeding during the London Marathon as a way to fight back against period stigma. In 2016 following the presidential election, she released her first EP Voices, featuring feminist anthems like "The Future Is Female," a song that simply, but powerfully, gets to the point: "Own your voice don't be afraid," Madame Gandhi sings. "There's power in what you say." Following the Women's March in 2017, the song was #8 on the viral U.S. top 50 Spotify charts.
Madame Gandhi says she got her first seeds of inspiration for "Bad Habits" after reading Gloria Steinem's autobiography My Life On The Road. In one chapter, Steinem writes about the influence early women's movements in India and Britain had on Mahatma Gandhi's activism. "Obviously, women were not using brute force aggression or warfare or violence, they were using practices of organizing community activism and nonviolence," Kiran Gandhi says. Those tactics would be reflected decades later in Mahatma Gandhi's own nonviolent efforts to seek India's national independence from British rule. "I found that to be deeply remarkable, because no one talks about the fact that Mahatma Gandhi's nonviolence practices were inspired by women and by femininity," Kiran Gandhi says.
In "Bad Habits," Madame Gandhi encourages listeners to also draw inspiration from the past to build their own legacies. The tone of "Bad Habits" is unapologetically upbeat. Madame Gandhi sings: "I've been reading about womxn's history in the 1920s / Thinking about how I can be so much better." And with midterm elections just weeks away, Madame Gandhi's message feels especially potent — change is possible, she says, and we're in a unique position to make it happen.
"If every single person took responsibility for their own immediate sphere of influence, the world would be a better place."
"For me, this fourth wave of feminism that we're currently in has a very specific quality to it that past generations of activists have not had, which is access to the internet, which thereby allows us to control our own narrative and also influence our own sphere of influence directly," Madame Gandhi tells Bustle. "If I open up my Facebook or my Instagram, and I'm a high schooler and I have 300 people following me, those are 300 of my friends in my community and my parents and my family who I can make a difference with," she says. "And if every single person took responsibility for their own immediate sphere of influence, the world would be a better place."
As for Madame Gandhi, she's already thinking about what's next. Her "Bad Habits" video, directed by Raine Allen Miller and created by a female-led cast and crew, is set to debut on Oct. 18, and an EP is coming out in the next few months.
In the meantime, she has a few words of advice for anyone just looking to make it through to the November midterms. "Own your voice, don't be afraid," she says. "The truth is always the most powerful thing you can have." And of course, she says, go vote. "We really need you to be that person in your community to make that change."