S
ponsored by 
A
DIDAS ULTRABOOST 19
Whether you're training for a marathon, exercising semi-regularly, or just looking for ways to remix your weekly routine, running can seriously switch things up. We spoke with three women whose running exercises fuel them — helping them to create, motivate, and empower others through being active.
In partnership with adidas Running, we caught up with life coach and fitness expert Neghar Fonooni, actor and film producer Tiffany Lighty, and musician and music producer Kiran Gandhi for their takes on how running has reset their lives. From providing emotional breathing space and a sense of focus, to giving them the drive and determination needed to overcome obstacles (both the physical and metaphorical), here's why running is the ultimate release.
Kirin Gandhi
Kiran Gandhi (or Madame Ghandi, as music fans will know her) has a powerful relationship with running. While it helps her focus on her music, it also helped her combat menstrual stigma in 2015, when she ran the London Marathon bleeding freely on her period.
Previously a drummer for other artists, Gandhi found that this experience empowered her to begin making her own original music. An advocate for social change and justice, the positive messages in Gandhi's music appeal to listeners' empathy, she says, calling for a change of perspective.
"In my work, my mission is to paint a positive and celebratory picture of the female and femme experience," she says, "so that we change how womxn and femmes are understood in the world today."
It was Gandhi's marathon training that taught her the value of being goal-oriented, too — not just in running, but in her music. "This has taught me, in an era where we have constant stimulation and distraction, that extreme focus and shutting out the noise can lead to far greater productivity than trying to do several things at once," she says.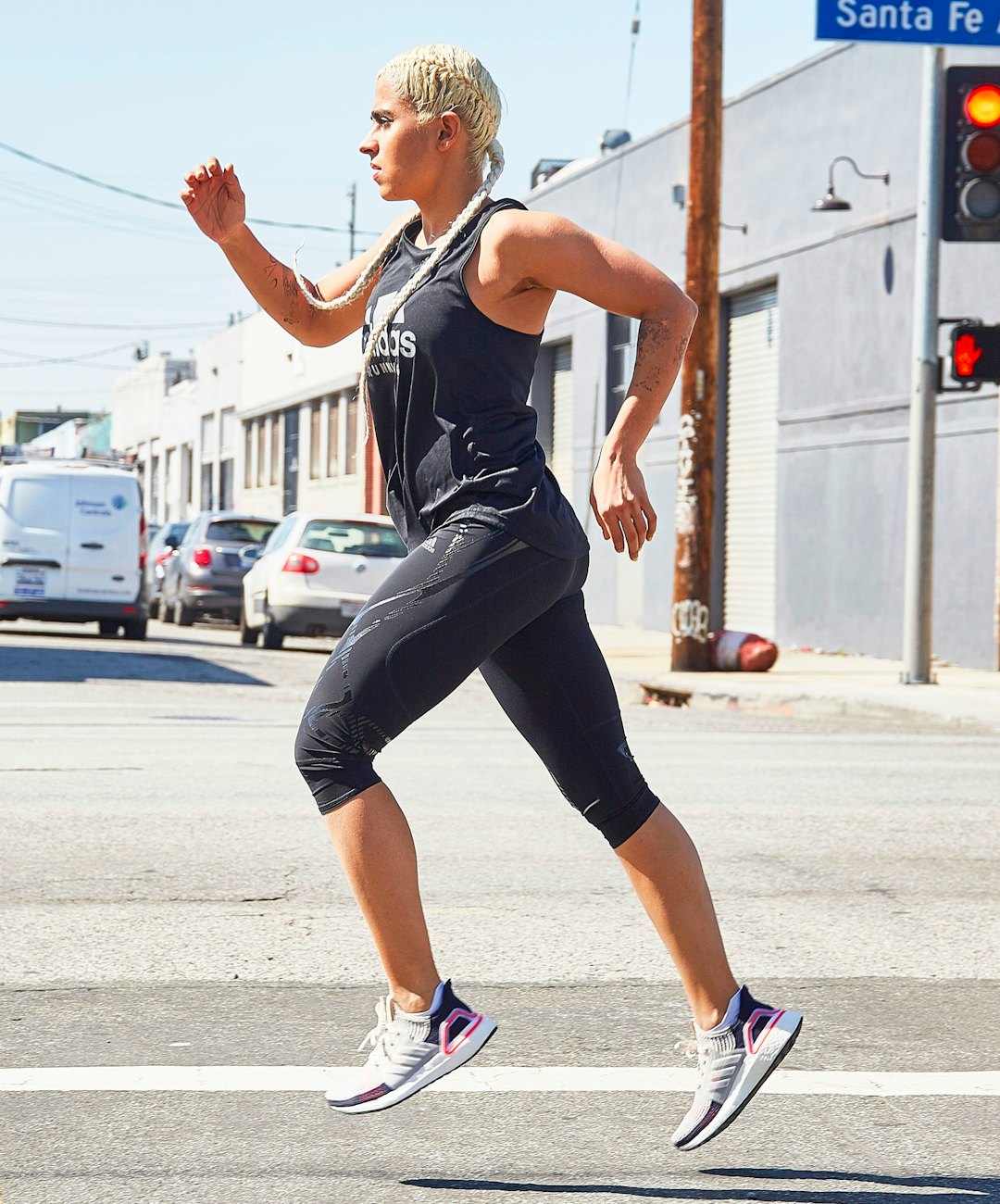 And in four years of producing and performing her own music, Gandhi's worked to spread her message of inclusivity and equality for everyone. "In my music, you can hear ideas about living in a world that is collaborative instead of competitive, that is emotionally intelligent instead of aggressive and that sees femininity as something that is aspirational as opposed to something that needs to conform or be eradicated," says Gandhi.
While Gandhi says she's still learning how to focus on one thing at a time, running has equipped her with what she needs to succeed. "It is my commitment to running and specifically distance running," she says, "that reminds me that staying focused and consistent is the key to achieving great things."
For me, running has always been an act of stepping into my own personal power and freedom. Dedicating time to running means that I'm taking charge of my personal health, wellness, and joyfulness. Optimizing for our own joy it is one of the most radical forms of activism because it allows us to operate as our best selves and be there for others. For me, the first three miles are always the hardest! I've been running long distance for five years and this is still true. However, the beautiful thing is that after those first three miles, without fail, the run turns into this positive, almost flying-like experience. I feel like I have all of the energy I need to keep going and can start creating and problem solving. @bustle@adidasrunning #ULTRABOOST19 #ad#createdwithadidas
Photo: @jenrosenstein
Lighting: @sarahhylandrosenstein
Outfit: @norblacknorwhite